Visualizing Empires Decline
The British, French, Portuguese and Spanish had the main maritime empires in land area during the 19th and 20th centuries. We developed an animated visulization that portrays the evolution of all four for more than two centuries in less than 4 minutes.

Maritime empires had abrupt and obtuse evolutions with dramatic declines, but their history also brought the idea of fluid and dissolvable boundaries. We portrayed independence events of a territory as a mitosis like split. Each territory is a shape that tends to retain an area directly proportional to the land extent of that territory on a specific year. Therefore the size of the empires varies during the simulation as they gain, or lose, territories. We used soft bodies to represent the volatility and dynamic nature of the these empires.



A physics engine responsible by inter and self bodies interactions was implemented using springs, providing an aggressive behavior between fluid forms. By these means we obtained a simplified, compact and ludic narrative of the expansion and decline of these empires.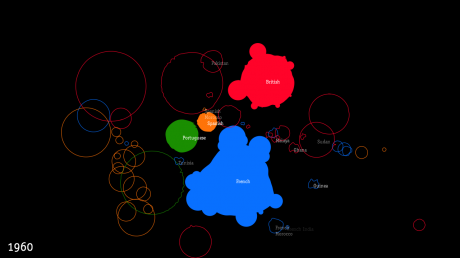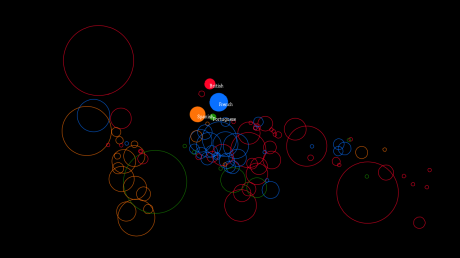 Visualization details

The soft bodies' behavior was implemented building a skeleton for each circle through particles connected with springs. Springs are also used to implement the forces that act in the simulation world, being able to present a behavior that includes collisions, attractions, repulsions, etc. The outcome of this process in a non deterministic simulation, being able to exhibit different behaviors for the same data, but constituting the same narrative. The simulation runs from 1770 to 2010, incrementing one year per second, but speeds out by three times if there are no independences in the near future. Former colonies persist on the map and head to their current geographical positions. Therefore it is possible to visualize by the end of the narrative how much of the world was once part of an Empire.

The datasource is mostly our beloved wikipedia where we picked the independence dates that were perceived as a de facto independence (e.g most of independence declarations prior to the new state's recognition). Dominions of an empire, were considered part of that empire and thus not independent. The accompanying music was kindly composed for this narrative by CHOP WOOD – chopwood.eu.



Awards and Distinctions
Pedro Cruz and Penousal Machado, ACM Student Research Competition, graduate category, SIGGRAPH 2010.
Pedro Cruz and Penousal Machado, Jury Selection, Visualizing Empires Decline, Computer Animation Festival, SIGGRAPH, 2010 .
Pedro Cruz and Penousal Machado, Visualizing Empires Decline, Prix Ars Electronica Animation Festival, 2010.
Featured on websites