The Middle Passage selected as finalist of the Aesthetica Art Prize 2023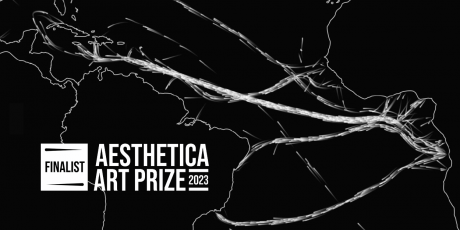 The project The Middle Passage, developed by researchers at the CDV lab, was selected as one of the ten finalists of the Aesthetica Art Prize 2023 and will be exhibited at the York Art Gallery, United Kingdom, between March and June of 2023.
The Middle Passage is developed by a team of CDV lab. researchers composed of Jéssica Parente,​ João Bicker, Penousal Machado, Sérgio M. Rebelo, and Tiago Martins.​​ The project comprised the development of a series of digital artefacts which reflect upon the impact and magnitude of the transatlantic slave trade between the XVI and XIX centuries. The artefacts are designed based on data from the Trans-Atlantic Slave Trade database, which is hosted by Emory University and contains data about more than 36,000 slaving expeditions. This work results from a partnership between the Centre for Informatics and Systems of the University of Coimbra, Instituto Pedro Nunes, and Fundação Cupertino de Miranda.
The Aesthetica Art Prize is an international art contemporary prize organised every year by Aesthetica magazine. The prize was created in 2007 to celebrate and support excellence and innovation in contemporary art. The Aesthetica Art Prize is an international art contest destined for all artists of every nationality and dedicated to any type of artistic expression, namely painting, sculpture, photography, graphic design, video art, and installation.
Related Pages
Middle Passage
The Middle Passage at Aesthetica Magazine Prize 2023
The Middle Passage information at CDV Lab