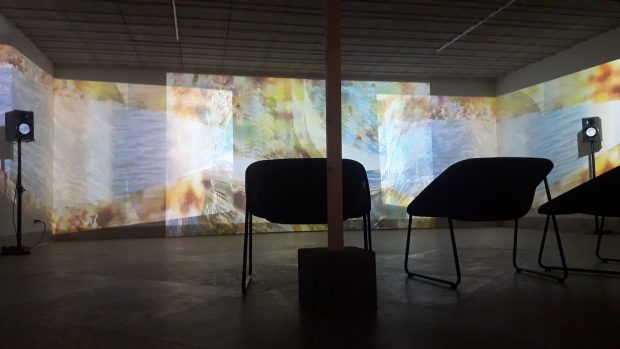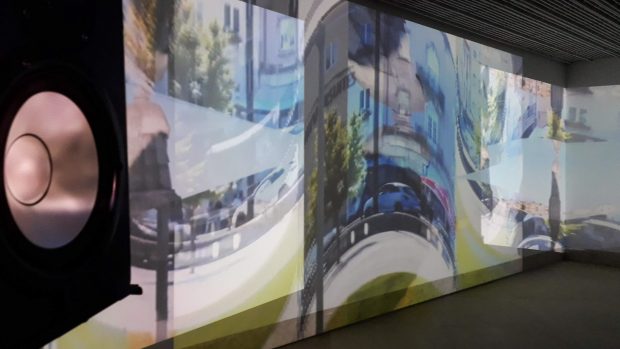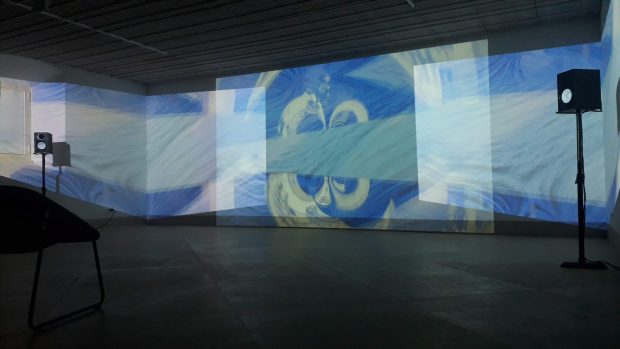 Sonus Populi: Installation at "Dar a Ouvir"
Sonus Populi is a multimodal installation that creates a tridimensional sound space of collected statements about the city of Coimbra, in the Centre of Portugal. The sound composition is primarily based on recorded speeches about Coimbra, intertwined with several local soundscapes and soundmarks, as well as with a sonified musical background that represent the affective nature of the statements. 
The installation is composed of two major elements – the sound and image of the city of Coimbra.
The sound element presents the city voices through statements recorded in interviews, which were previously made to residents or visitors of the city. These are accompanied by musical pieces generated using a sonification system previously developed, designed to use the emotions present in each statement. 
The image element has the goal of providing the city the voices of the interviewees. Videos of each place mentioned in the statements are composed and edited to personify these places and give them a human element. These places can then take the people's voices as their own and portray the underlying emotions. Each block of speeches is punctuated by moments with no image, where soundscapes of the city are unveiled in the darkness. This moment invites the visitor to mentally transport himself to each place and reflect upon his experiences in them.
The piece was presented at the "Dar a Ouvir – Paisagens Sonoras da Cidade" in 2019. The physical installation of Sonus Populi was displayed in one of the rooms of the Convento de São Francisco, the most recent and major cultural centre of Coimbra. The installation was composed of four main speakers, arranged in a quadraphonic set, three projectors placed in a specially-made wood structure to support them, and a single computer in the back of the room to run the 25-minute video in loop. With three chairs suitably placed in front of the projections, the visitors were invited to walk in, walk around and sit quietly to listen and embrace the entire sonic journey.
We also devised a small area for each visitor to voluntarily leave his/her own statement about the city. We built a small wooden container with a button connected to an Arduino microcontroller, which was placed below a microphone for the visitors to easily press and record the intended message.
The following video presents the entire piece during the exhibition, which took place from July 4th until September 2nd in 2019.
Acknowledgments
We would like to give a special thanks to Luís Antero for his recordings, Daniel Silva for the gathering and transcription of the statements and Catarina Pires for the opportunity and support.