Portraying with Letters
Letters have a key role in our society enabling the transmission and storage of knowledge. Similarly to symbols and figures, primitive letters were already used at prehistoric age such as a visual add-on to spoken language. The invention of movable types in western society (around the mid-fifteenth century) triggered one of the foremost shifts in human development. Until then, to produce a book, one had to write the letters. Hereafter, this process could be mechanised and repeated anywhere and everywhere. When people became more acquainted with typography, letterforms started to no longer be exclusively viewed as phonetic symbols. Consequently, many artists and designers began exploring how to assemble typographic shapes as a primary resource to create images, either by implanting new meanings in texts through the visual layout or by replicating an image.
Exploring this idea, we develop a generative design approach for the automatic creation of typographic compositions that combine facial portraits, made exclusively of letterforms, and texts. This work is aligned with a commercial design project introduced to us by Fundação Cupertino Miranda (Portugal). They required an interactive installation to integrate a permanent exhibition dedicated to Portuguese literature, which will be installed in a continuous helical tower of ten floors located at the centre of Vila Nova de Famalicão, in Portugal. The main purpose of this installation is to allow visitors to create custom typographic compositions and this way promote a more interactive experience and a closer relationship between the exhibition and its visitors.
This interactive installation that works like a photo booth machine, but it only uses black typographic elements to render each photo. The interaction process is simple. First, the visitor enters a dedicated space to take a photograph of his/her face. Second, the facial photo is rendered using letterforms, thus creating a typographic portrait. Then, the visitor customises the typographic composition by selecting and adding to it one of the texts featured in the exhibition. In the end, the final composition is made available to the visitor through a dedicated section on the museum web page.
We developed a generative design process for the automatic creation of the typographic compositions. This generative process generates portraits by assembling letterforms so that their whole arrangement depicts the input facial image. The placement of the letters considers the visual features of the input image. Each letter is strategically positioned, rotated, and scaled in order to maximise the ability of the resulting portrait to recreate the input image. This generative design process also composes, in a dynamic way, each output portrait with a piece of text selected by the user.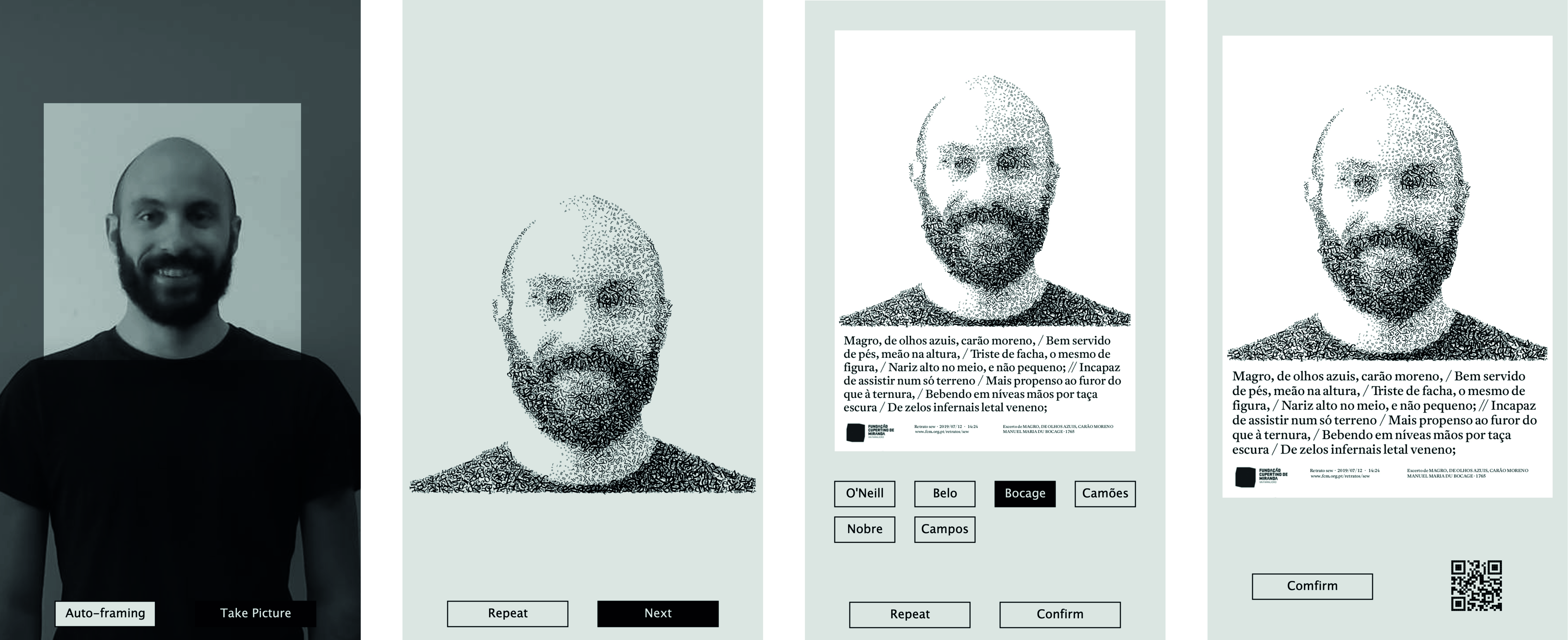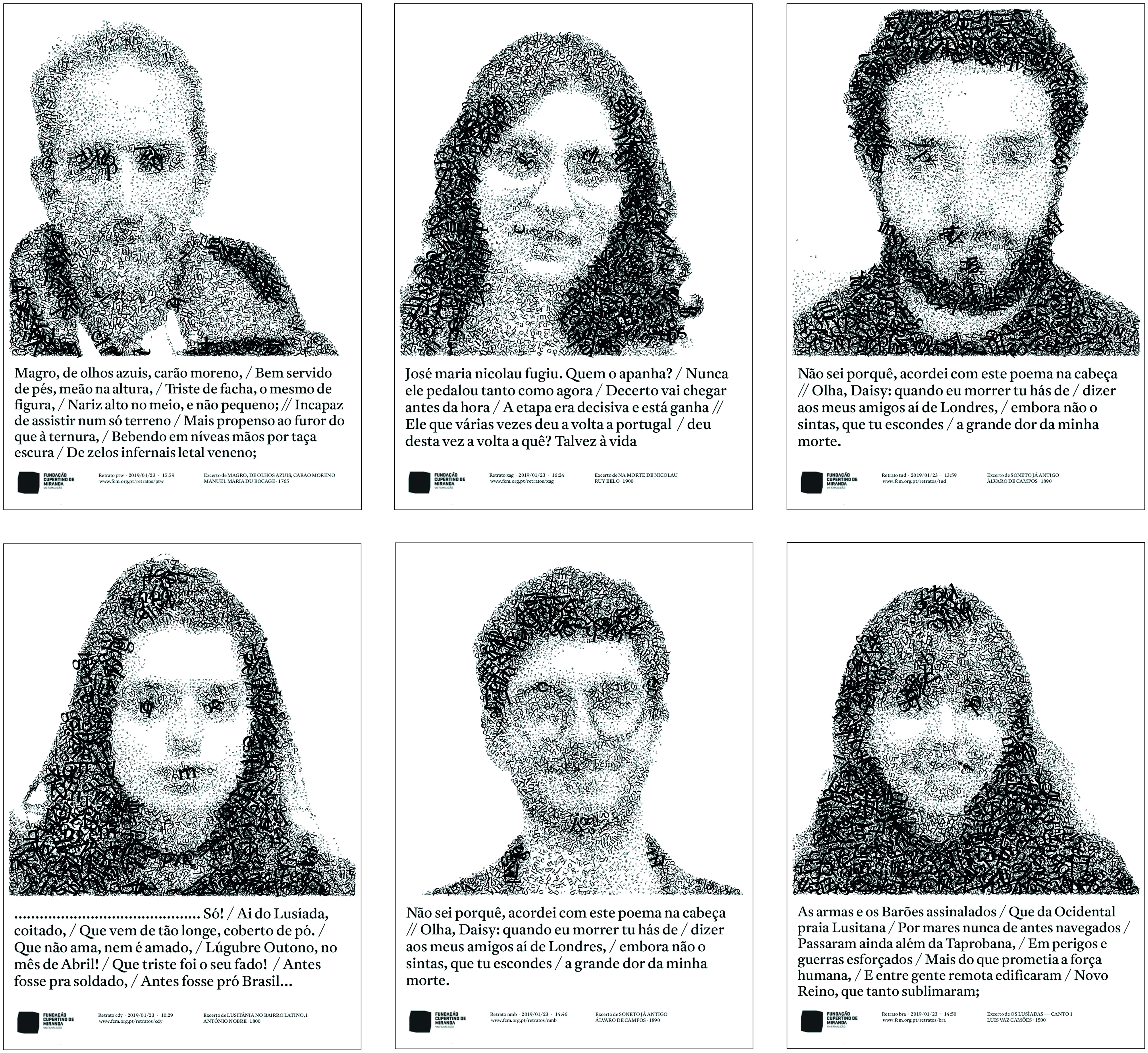 In order to assess the installation behaviour, we have set up a functional prototype of the installation at our laboratory and invited people who were passing through to test it. This way, we tested the prototype with 44 users. Most of the users were students and professors of the bachelor and master's degree in design and multimedia. One can access all outputs created during this tests session in raster and vector format.



Publications

S. Rebelo, T. Martins, J. Bicker, and P. Machado, "Typography as Image: Experiments on Typographic Portraits," in

Proceedings of the Ninth Typography Meeting (9ET)

, 2018.

@inproceedings{rebelo2018a,
Author = {S\'{e}rgio Rebelo and Tiago Martins and Jo\~{a}o Bicker and Penousal Machado},
Booktitle = {Proceedings of the Ninth Typography Meeting (9ET)},
Date-Added = {2018-11-22 17:56:26 +0000},
Date-Modified = {2018-11-22 17:57:56 +0000},
Editor = {Associa\c{c}\~{a}o de TIpografia de Portugal (ATIPO)},
Month = {11/2018},
Organization = {Polytechnic Institute of Tomar},
Publisher = {Instituto Polit\'{e}cnico de Tomar},
Title = {Typography as Image: Experiments on Typographic Portraits},
Year = {2018}}

|

T. Martins, S. Rebelo, J. Bicker, and P. Machado, "Portraying with Letters: An Interactive Installation," in

Proceedings of the International Association of Societies of Design Research Conference 2019 "Digital Revolutions" (IASDR 2019)

, Manchester, United Kingdom, 2019.

@inproceedings{martinsRebelo2019a,
address = {Manchester, United Kingdom},
author = {Martins, Tiago and Rebelo, S\'{e}rgio and Bicker, Jo\~{a}o and Machado, Penousal},
booktitle = {Proceedings of the International Association of Societies of Design Research Conference 2019 "Digital Revolutions" (IASDR 2019)},
publisher = {IASDR},
title = {Portraying with Letters: An Interactive Installation},
year = {2019}
}

|