Photomaton: Portraying with Letters
Photomaton is an innovative and unique tailor-made interactive museological experience, that combines Artificial Intelligence and Computational Creativity to create, in real-time and automatically, typographic portraits of the people who visit the exhibition and interact with it.
This project demonstrates how Computational Creativity can enrich the museological experience, making it more interactive and participatory. Photomaton was developed specifically for the permanent exhibition Torre Literária – Louvor e simplificação da literatura portuguesa, taking into account its space, nature and target audience. Torre Literária is dedicated to Portuguese literature and is located at Fundação Cupertino de Miranda, Portugal.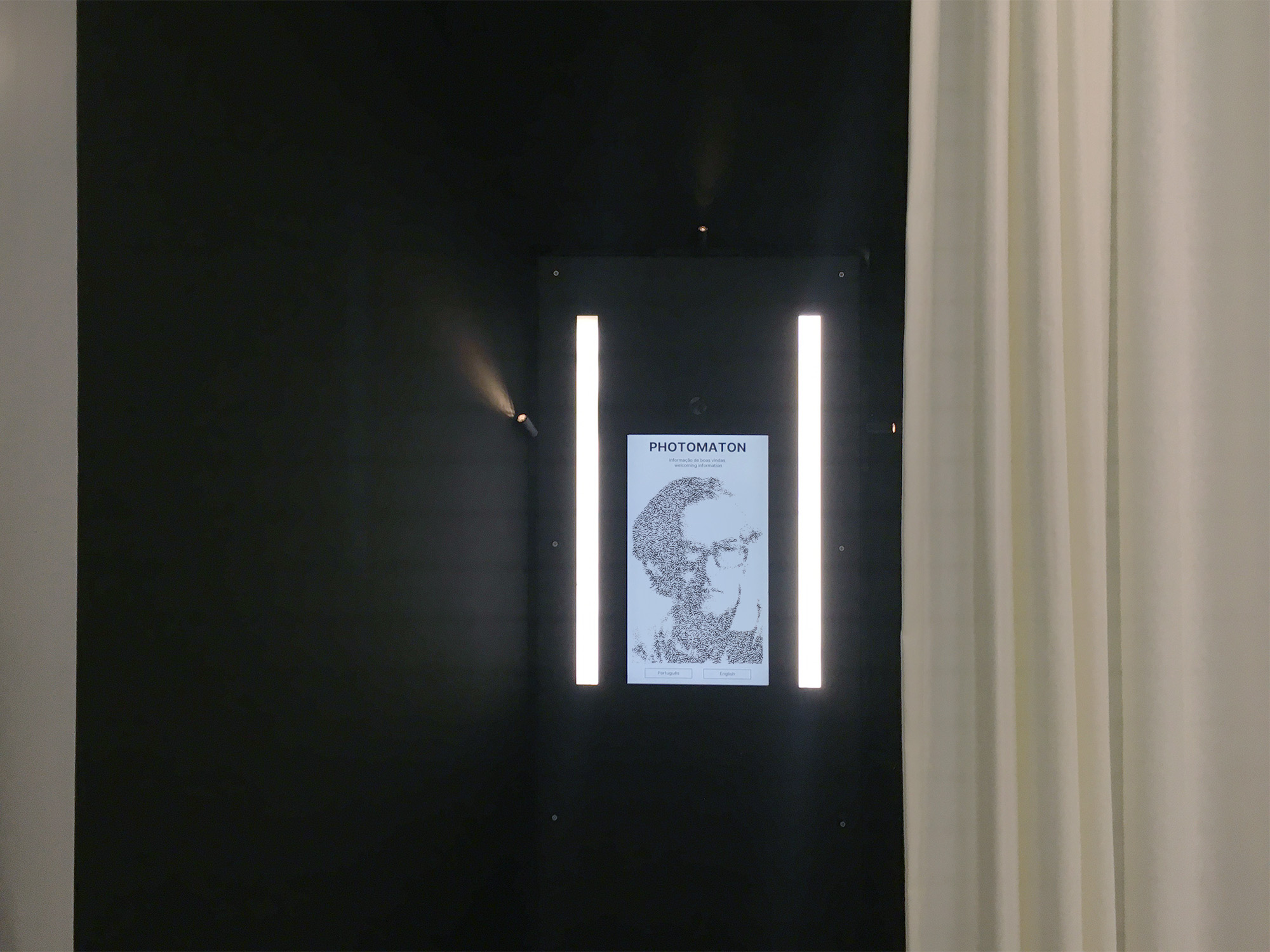 Through the use of computer vision algorithms and non-deterministic generative techniques, Photomaton creates portraits of visitors using only typographic elements, more specifically letters. This way, each visitor of the Torre Literária exhibition can create his/her typographic portrait and combine it with one of their favourite texts from the exhibition.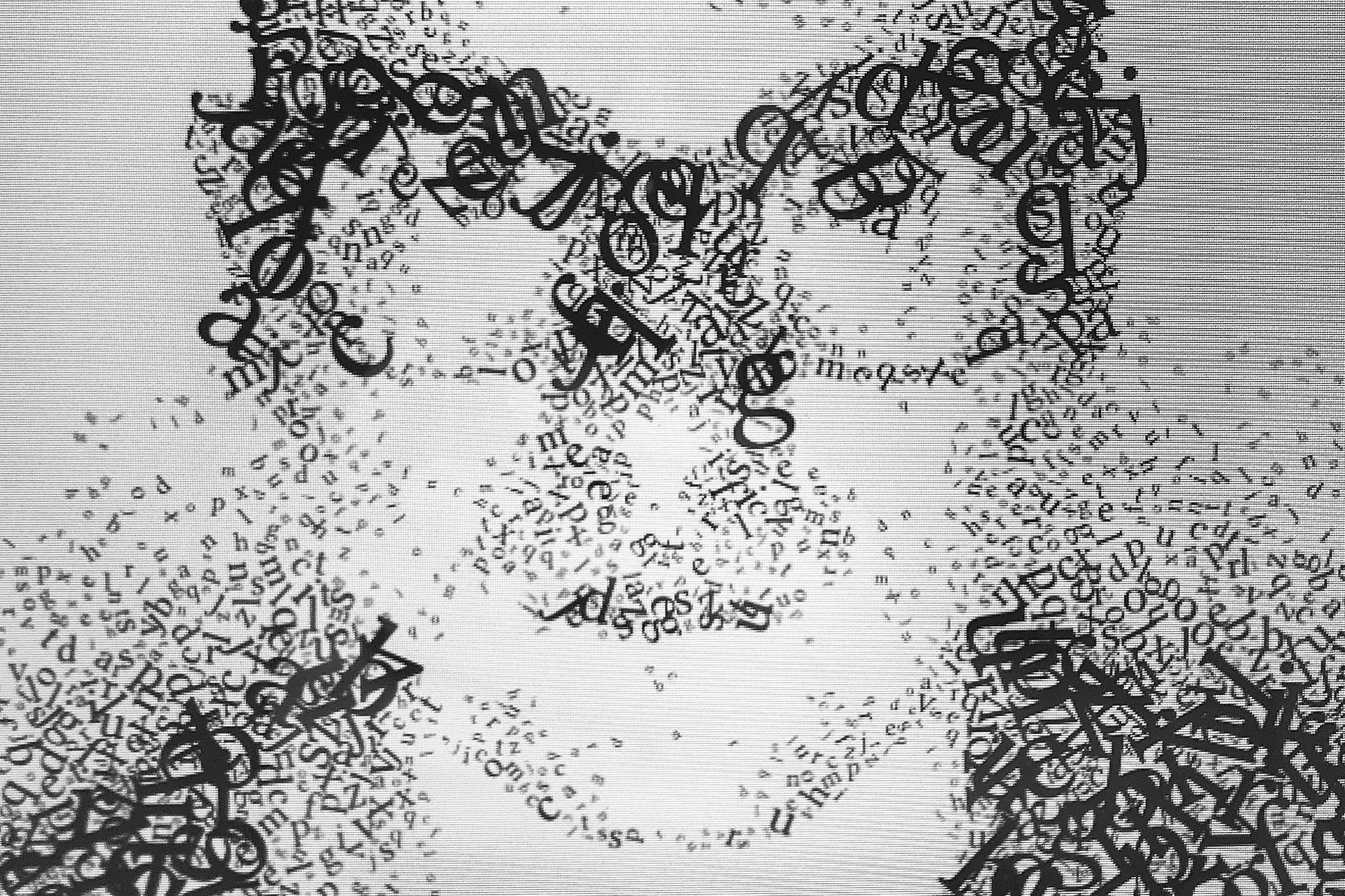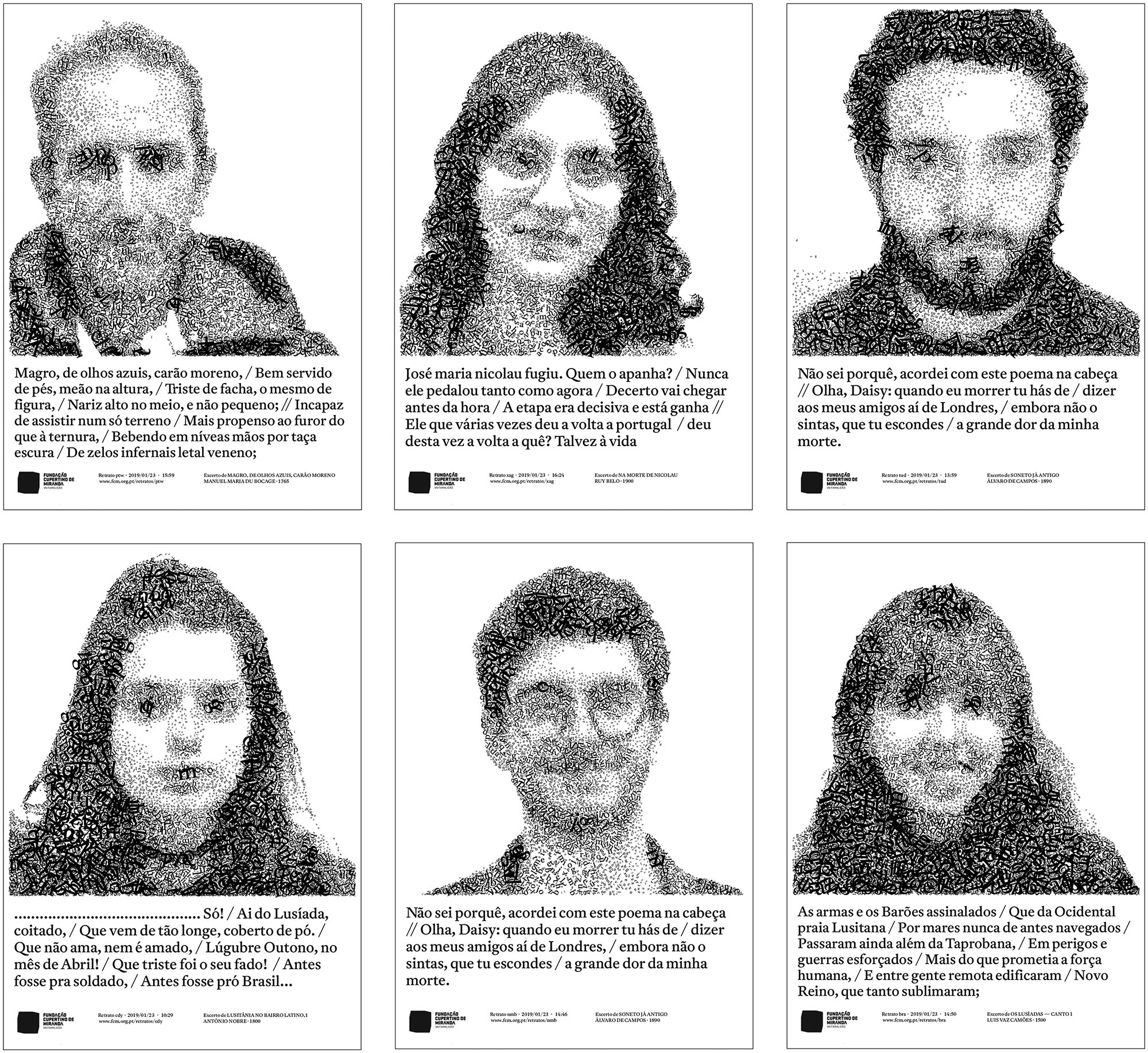 During the creation of each portrait, thousands of letters are precisely positioned and assembled to create recognizable representations of the faces of visitors. Since this process is not deterministic, each generated portrait is unique and unrepeatable. Each letter is strategically positioned, rotated, and scaled in order to maximise the ability of the resulting portrait to recreate the original photo. This generative design process also composes, in a dynamic way, each output portrait with a piece of text selected by the user.
The interaction process with the Photomaton is simple. First, the visitor enters a dedicated space to take a photograph of his/her face. Second, the photo is transformed into a typographic portrait made of letters. Then, the visitor customises the portrait by selecting and adding to it one of the texts featured in the exhibition. In the end, the final composition is made available to the visitor by the Fundação Cupertino de Miranda.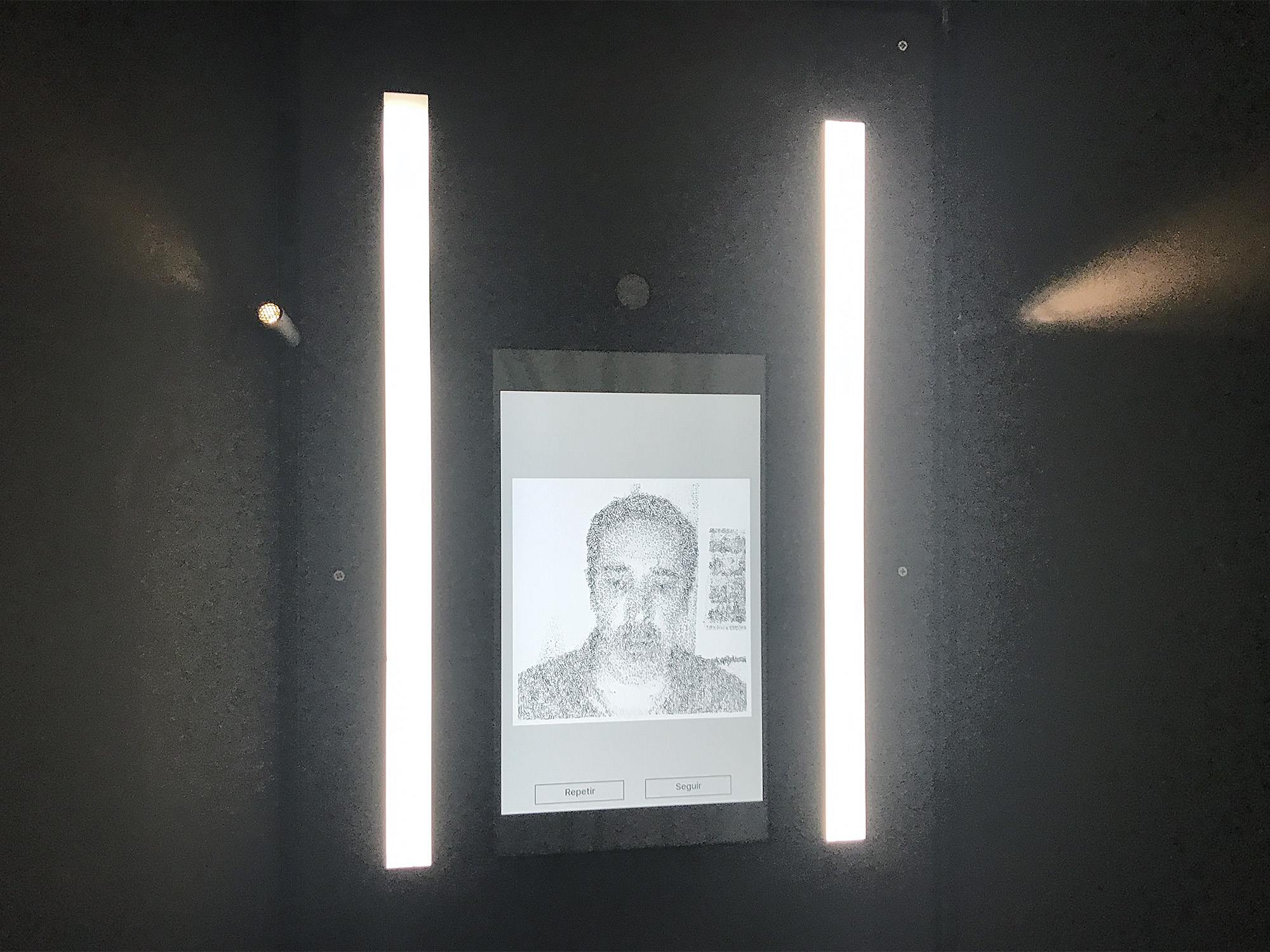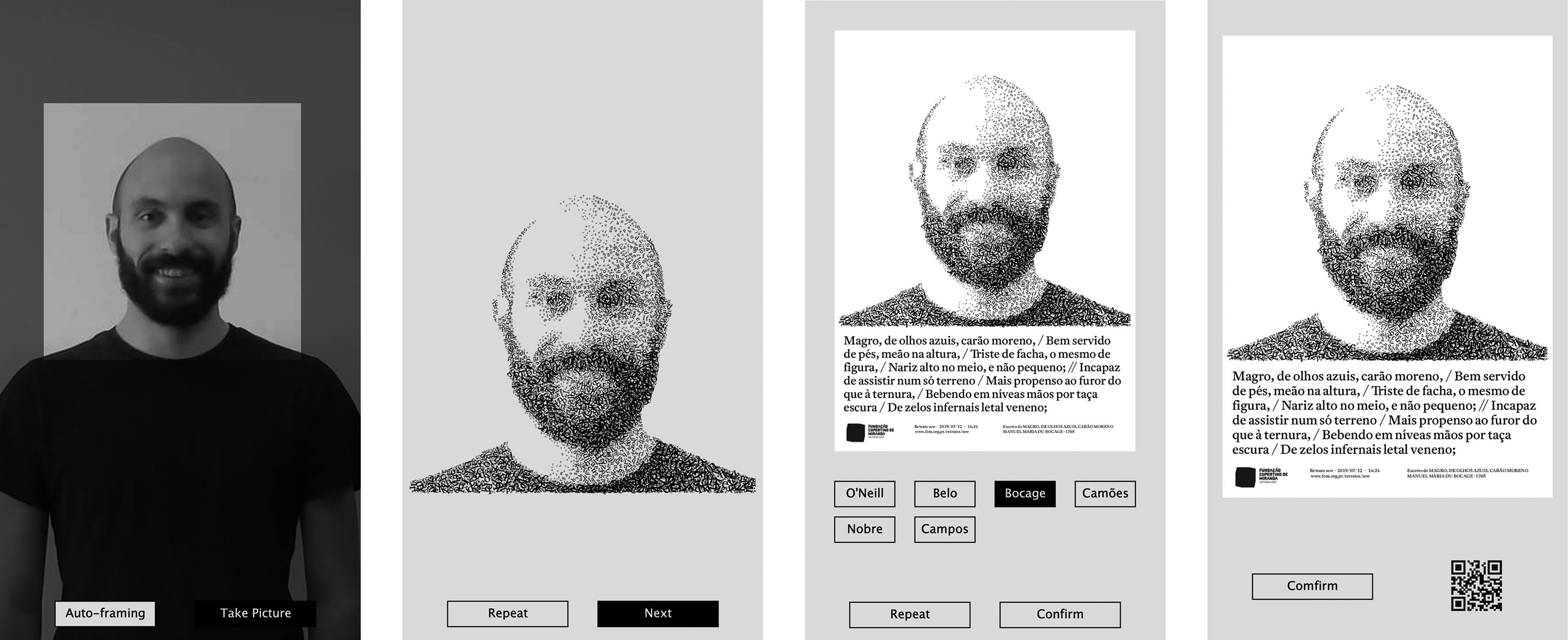 One can access several portraits created during an early testing stage of the project in raster and vector format.
Media Coverage


Publication

S. Rebelo, T. Martins, J. Bicker, and P. Machado, "Typography as Image: Experiments on Typographic Portraits," in

Proceedings of the Ninth Typography Meeting (9ET)

, 2018.

@inproceedings{rebelo2018a,
Author = {S\'{e}rgio Rebelo and Tiago Martins and Jo\~{a}o Bicker and Penousal Machado},
Booktitle = {Proceedings of the Ninth Typography Meeting (9ET)},
Date-Added = {2018-11-22 17:56:26 +0000},
Date-Modified = {2018-11-22 17:57:56 +0000},
Editor = {Associa\c{c}\~{a}o de TIpografia de Portugal (ATIPO)},
Month = {11/2018},
Organization = {Polytechnic Institute of Tomar},
Publisher = {Instituto Polit\'{e}cnico de Tomar},
Title = {Typography as Image: Experiments on Typographic Portraits},
Year = {2018}}

|

T. Martins, S. Rebelo, J. Bicker, and P. Machado, "Portraying with Letters: An Interactive Installation," in

Proceedings of the International Association of Societies of Design Research Conference 2019 "Digital Revolutions" (IASDR 2019)

, Manchester, United Kingdom, 2019.

@inproceedings{martinsRebelo2019a,
address = {Manchester, United Kingdom},
author = {Martins, Tiago and Rebelo, S\'{e}rgio and Bicker, Jo\~{a}o and Machado, Penousal},
booktitle = {Proceedings of the International Association of Societies of Design Research Conference 2019 "Digital Revolutions" (IASDR 2019)},
publisher = {IASDR},
title = {Portraying with Letters: An Interactive Installation},
year = {2019}
}

|
Author