PCD@Coimbra 2020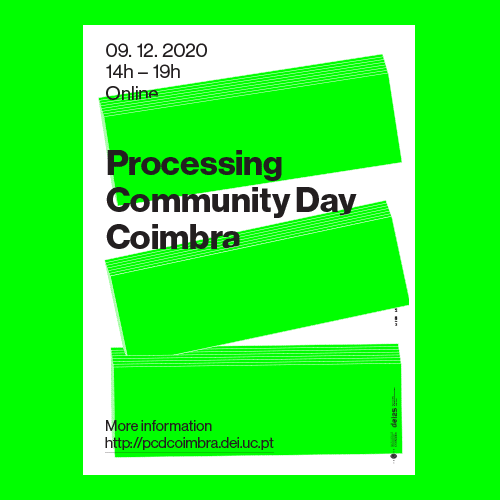 The 1st Processing Community Day @ Coimbra will take place on the 9th of December, at 14h00, fully online. It will include:
Keynote Session
Vera van de Seyp
Vera van de Seyp is a graphic designer, creative coder and media artist. She has great interest in artificial intelligence, languages and finding systems in chaos. She works in Amsterdam as designer and artist, teaches at ArtEZ, and gives workshops and lectures across Europe.
Chair: Penousal Machado
Short Presentation Session
This session will consist of short presentations by five invited speakers, followed by an open discussion panel.
Chairs: João Couceiro e Castro, João Miguel Cunha,
Sérgio Rebelo and Tiago Martins

David Mrugala (DE/KR)
Angharad Hengyu Owen (CH/PT)
Bruna de Sousa and José Maria Cunha (PT)
Jérôme Mercier (FR)
Vânia Oliveira and Irene Peixoto (PT)
Workshop
P5.js makes interactive webpages
Processing has been fostering interactive design by offering designers a simple high-level syntax for developing graphics in multiple programming languages such as Java or Python. P5 is a JavaScript library for taking the highest advantage of Processing capabilities on the web. This workshop focus on introducing P5 and featuring its potential for developing interactive web pages.
Lecturers: Pedro Silva and Daniel Lopes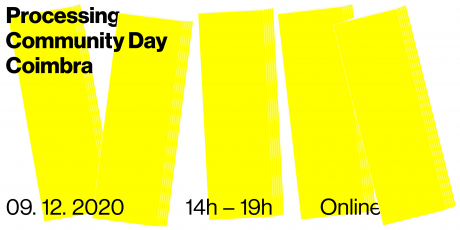 Also, the Processing Community Day @ Coimbra 2020 includes a poster exhibition on the theme "25" (the number 25), in which all posters were produced using code. The exhibition takes place online and the posters will be gradually released from November 10 to December 8.
The event is supported by the Department of Informatics Engineering, being part of the commemorations of its 25th anniversary.
Please keep an eye on our website or subscribe our mailing list to get updates!