O Brain, My Brain
"O Brain! My Brain" is a multimedia exhibition that seeks to unveil the brain as an organic and mysterious entity that distinguishes the human being as a rational and emotional being.
In four artifacts, research themes in Neurosciences and Computational Design intersect in order to show different perspectives of what the human brain is, or can be, how it moves us, commands us, enriches us, and deceives us, sometimes leading to a sphere of sensations that guides our daily lives. From this experience, the diversity of being and being, of thinking and feeling, emerges, in a variety of neuronal connections and behavioral patterns that translate the identity of each one and, ultimately, the individuality that makes them unique.
Based on an initiative for the Promotion of Scientific Culture by the Interdisciplinary Research Institute of the University of Coimbra, which brings together two research groups from different areas, "A Window for the Brain" is an invitation to dialogue between art and science, in a collaborative collective in the form of a half-open window into the universe of the human brain.
"You Spin My Brain Round"
"You Spin My Brain Round" is an entry spiral into the differences and similarities of brain activity. Based on data captured through magnetic resonance imaging, different regions of our command organ are activated in a series of temporal sequences that translate the complexity of brain functioning into planning, execution, and decision-making tasks.
Twenty-four spirals represent the activity of twenty-four individuals, in a composition of posters that reveal neurodiversity, in a color of multiple patterns of activation and behavior. An animation integrates this physical artifact, which reveals the temporal dynamics and their fusion between groups of individuals.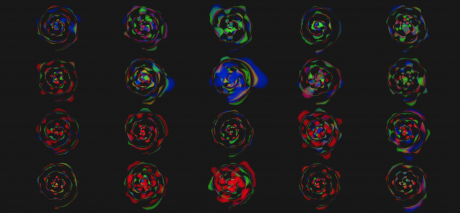 "The Daily Life of Brain"
"The Daily Life of the Brain" reveals the physical pathways of neuronal activity and the connections of the different structuring areas of our brain.
Four types of everyday activities are translated, from motor, visual, emotional, and facial expression recognition, unraveling the underlying neuronal connections through a dynamic representation of the brain. The printed format of these activities invites each visitor to choose a witty suggestion linked to their day-to-day.
"Face/Off"
"Face/Off" is a deconstruction of the human face, a montage revealing the holistic visual processing of a facial expression, where the brain can understand it as a whole or a disintegrated set of parts. It is this holistic ability that helps us, as human beings, to adapt to our surroundings.
Each visitor is invited to add their own expression to a collection of faces, where the main elements responsible for the sensorial collection are extracted from each photograph: our eyes, noses, and mouth. These become the pieces for a disconnected cluster as a fragmentation of realities.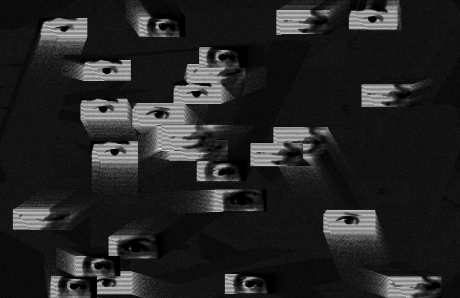 "I Live It My Way"
This artifact invites an emotional and individual perspective of how each one of us feels as a unique being and bearer of a unique existence.
In a varied collection with participants of different ages and contexts, a single question was the motto for sharing experiences: "what makes you different from other people and makes you unique and different?". From the spoken testimony, two computational systems generate their interpretations: SpeechTyper composes a typographic speech, reactive to the vocal variations of each intonation, and ESSYS translates the emotions inherent to each word, creating musical compositions of the emotional journeys of each sharing. Together, we have an animation that conveys the multiplicity of thinking, feeling, and being.
Resources
Exhibition "O Brain My Brain" looks at the neurosciences through computational design