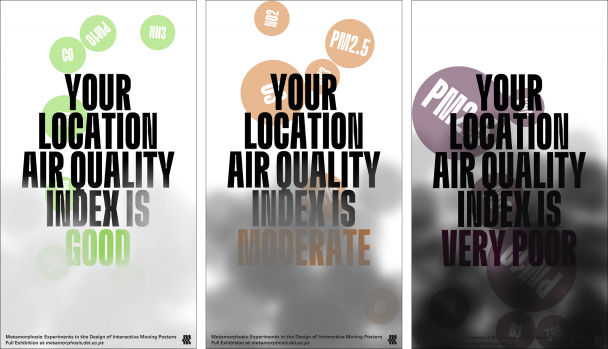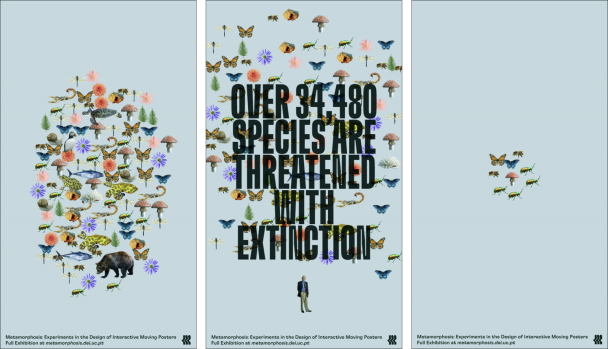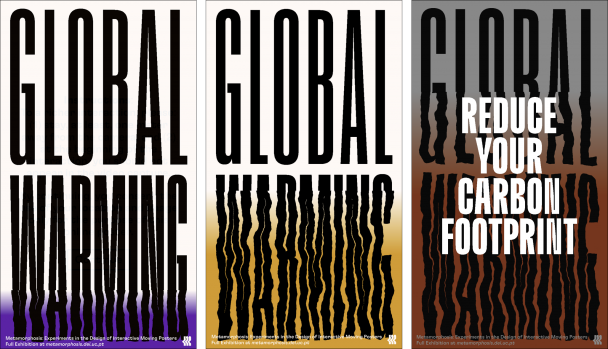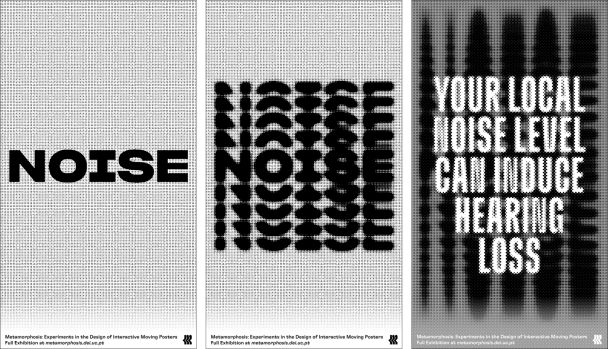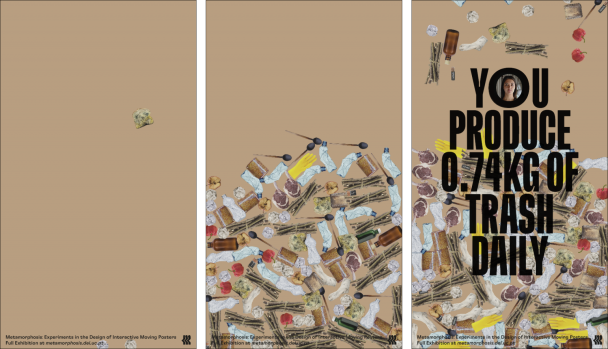 Metamorphosis: Experiments in the design of interactive moving posters
Metamorphosis is a collection of interactive moving posters that address the current "metamorphosis" of the planet Earth due to the current climatic changes, i.e. the posters inform about the causes and consequences of some of the current environmental problems, especially focusing on human impact. Currently, the explored subjects are Air Pollution, Biodiversity loss, Deforestation, Global Warming, Noise Pollution, Water Pollution, and Waste production. An online gallery presenting the developed posters is accessible at https://cdv.dei.uc.pt/2021/metamorphosis.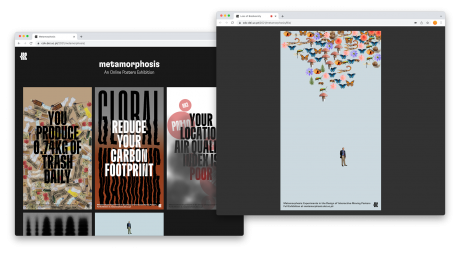 These posters are composed of variable visual elements. The visual features of these elements are defined based on the behaviour of the viewers and/or the state of the surrounding environment where the given poster is being seen. The data is gathered directly and indirectly. Direct data comes from tracking the viewer's behaviour and environment state. On the other hand, indirect data concerns geo-referenced or context-aware data. In some posters, generative approaches are employed to create design variations. The design of each poster represents, therefore, a unique moment based on the time, the space, and its viewers. Although these posters were developed to be presented only digitally, they resemble and comply with the aesthetic and communicative tradition of posters.
Resources
GitHub repository
Metamorphosis: Experiments in the design of interactive moving posters (Design and Multimedia MSc dissertation)
Posters moving versions
Supplementary images
Related Projects
Poster Factory project
Olhos Music Fest (Branding)
Publications
R. Gonçalves, S. M. Rebelo, D. Lopes, and A. Rebelo, "Promoting climate awareness through the design of interactive moving posters," in

DRS2022: Bilbao, 25 June – 3 July, Bilbao, Spain

, 2022.

@inproceedings{goncalves2022metamorphosis,
author = {Gonçalves, Ricardo and Rebelo, Sérgio M and Lopes, Daniel and Rebelo, Artur},
editor = {Lockton, D., Lenzi, S., Hekkert, P., Oak, A., Sádaba, J., Lloyd, P. (eds.)},
title = {Promoting climate awareness through the design of interactive moving posters},
booktitle = {DRS2022: Bilbao, 25 June – 3 July, Bilbao, Spain},
doi = {https://doi.org/10.21606/drs.2022.741},
year = {2022},
}

|
|