ESSYS*:Sharing #UC
ESSYS*: Sharing #UC is a participative installation that presents a multimodal environment representing the content shared online, on Twitter, about the University of Coimbra.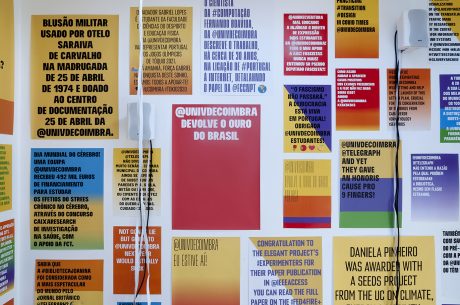 The installation is a mirror to an audiovisual environment, created by an artificial system that throughout the detection and textual recognition, classifies the content based on the eight basic and prototypal emotions: joy, anticipation, trust, fear, anger, disgust, surprise and sadness. The detected emotions are feedstock to the generation of sonic-typographic artefacts. The sonic compositions travel melodic and harmonically in a musical universe that breathe these emotional atmospheres, emerging from the most provocative contents in the form of probabilities of sound parameters. On the other hand, the typographic compositions translate the emotional charge of contents in visual variables, inspired by the production processes of letterpress. This installation is been presented, simultaneous, in two different media: physical and online.
The online installation is accessible in http://sharing-uc.dei.uc.pt. The physical installation can be visualised in Coimbra (Portugal) in the 24-7 opened MUSEU of Círculo de Artes Pláasticas de Coimbra (CAPC) in Praça dos Cortes.
ESSSY* is a joint venture that explores the multimodal production of audiovisual artefacts employing the Poster Factory's systems and the ESSYS system.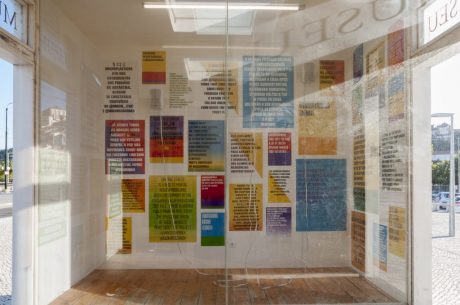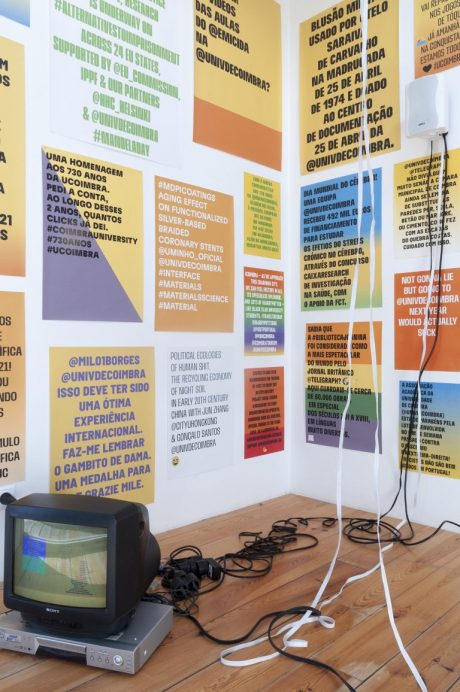 ESSYS*: Sharing #UC is an artwork produced with the support of Iniciativa de Apoios Financeiros para Promoção da Cultura Científica da Universidade de Coimbra (in the scope of the celebration of 730 years of UC) and CAPC. We like to thanks to the following institutions and people: João Bicker, F. Amílcar Cardoso, (Rui) Buga Lopes, Penousal Machado, Serviço de Informática e Comunicações do DEI/FCTUC, Círculo de Artes Plásticas de Coimbra, Jorge das Neves, Tiago Martins, Pedro Silva, Centro de Informática e Sistemas da Universidade de Coimbra e Departamento de Engenharia Informática da Universidade de Coimbra. Sérgio Rebelo and Mariana Seiça are suported by Fundação para Ciência e Tecnologia under the grants SFRH/BD/132728/2017 and SFRH/BD/138285/2018, respectively.
On News
MUSEU com instalação participativa sobre a UC in Campeão das Províncias (24th August 2021, in Portuguese)
ESSYS*: Sharing #UC in CAPC webpage