Emojinating at ARTECH 2019
The installation "Emojinating: Hooked Beings" is being displayed at the 9th International Conference on Digital and Interactive Arts (ARTECH 2019), at the Altice Forum Braga.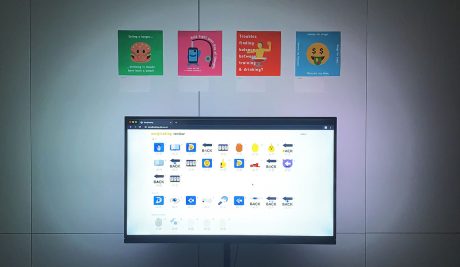 The installation delves on the subject of addictive behaviors and their integration as emoji in today's digital culture. The idea of turning everything into an emoji is taken to the limit by addressing societal open issues. The installation (see Fig. 1) is divided into two parts: a set of four finished artworks resultant from a collaboration between user and the Emojinating system (see Fig. 2); and a collection of videos that show the interaction between the two. With this format combination, the viewer as the chance of having a glimpse at the different stages of a co-creative process: co-creation, production and interpretation.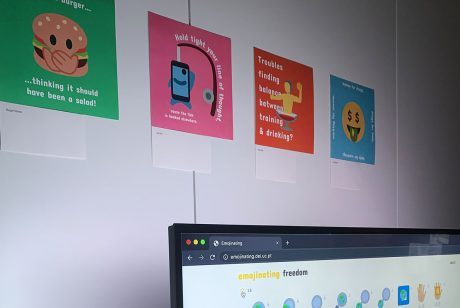 ARTECH 2019 takes place in Braga from 23-25 October.
Related links
---
Publications
J. M. Cunha, P. Martins, and P. Machado, "Emojinating: Hooked Beings," in

Proceedings of the 9th International Conference on Digital and Interactive Arts

, 2019.

@inproceedings{cunha2019hooked,
author = {Cunha, Jo\~{a}o M. and Martins, Pedro and Machado, Penousal},
title = {Emojinating: Hooked Beings},
year = {2019},
isbn = {9781450372503},
publisher = {Association for Computing Machinery},
url = {https://doi.org/10.1145/3359852.3359964},
doi = {10.1145/3359852.3359964},
booktitle = {Proceedings of the 9th International Conference on Digital and Interactive Arts},
articleno = {Article 88},
numpages = {3},
keywords = {Computational Creativity, Visual Blending, Emoji},
location = {Braga, Portugal},
series = {ARTECH 2019}
}

|
|
Author