Designing Posters with/to the street
Posters have always played a key role in our society. Already during the Roman Empire, posters' messages were painted on wooden panels and placed in streets to announce messages. Throughout the times, they multiplied by our cityscape, influencing the perception of a city by the passers-by. With the emergence of digital technologies, animated and/or interactive elements started to be used to generate posters. The use of computer vision techniques and context-aware data appears to be the natural next step in the design of this kind of artefacts.
Based on this, we developed the artistic installation Designing Poster with/to the street (original title Desenhar Cartazes com/para o Caminho) that explores this idea translating data from the surrounding environment into graphical information to create poster designs based in the street and/or in the people that walk in the street. Furthermore, the system is also able to assess its outcomes and increase the design quality based on the social dynamics of each place where the installation is placed.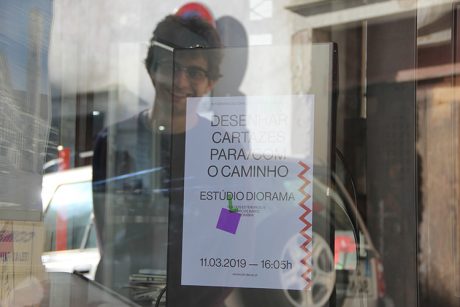 The system software is able to gather information from the surrounding environment using Computer Vision techniques and Context-aware data. This way each time we boot the system, it dynamically places shapes in the composition. Each element is placed with a set of visual features associated (e.g. colour, scale, lifespan and/or rotation). Initially, the shapes are designed in a random fashion. However, over the times the system, using the previously posters' data, tries to replicate compositions (or part of them) that have worked well at the past (i.e. compositions evaluated as good by the system) when the environmental conditions are similar. This way, the system learns how to design to the site where it is placed.
During four weeks (11.03—07.04.2019) the interactive installation will travel in Coimbra's city centre. The installation will be on view for one week at each space: from 11.03 until 18.03 the installation is placed at Rua dos Estereiros, no. 16 (Estúdio e Laboratorio Diorama); from 18.03 until 25.03 the installation is placed at Praça do Comércio, no.  97–99–101–103 (Jorge Mendes, Irmão & Cª.); from 25.03 until 31.03 the installation is placed at Rua Adelino Veiga, no. 51 (Chrono's paper); and finally, in the fourth week (01.04 until 07.04) the installation is placed at Largo do Poço, no. 1 (Ellayne).
Each time of installation is moved, the system is reset and the previously acquired knowledge erased. This project is part of the program of the 21st Cultural Week of the University of Coimbra.

This is a project from Computational Design and Visualisation lab. (CMS/CISUC) with the production support of Catarina Pires.
In news
Notícias UC (12.03.2019) Desenhar Cartazes pela Baixa de Coimbra